Plan Your Next Year's Vacations With These Youtube Channels
The new year hasn't even started yet, but I know I am already incredibly burnt out. Long work hours, endless commutes, functions and events, the holidays…life may be rewarding, but it is also incredibly tiring at times. Is it any wonder we spend so much time yearning for an escape, or procrastinating to feel like we have a break?
It is never too late to start planning a getaway, and I am already looking into a summer vacation for myself and my family. To get an idea of where to go, I have been scouring the Internet and think I have found the perfect place. I have even started putting aside money and making reservations, just to be assured that it all goes according to plan.
While normally I would use a site like TripAdvisor or even Pinterest to inspire me, I found a new surprising tool this time around. It was YouTube, where you can find thousands of travel related videos and some with some really helpful advice.
These are must-see channels for anyone looking to plan a vacation.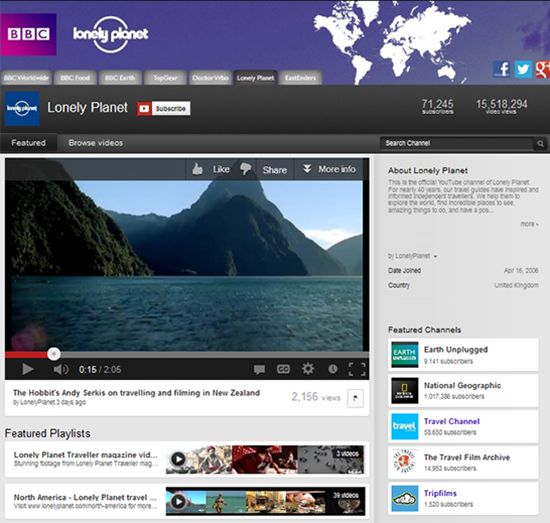 One of the most popular travel sites on the web is Lonely Planet. From finding information on exotic locations, to being advised on just what to do when you get there, you can find anything you need. The people who work for the site are experienced travelers themselves, and dedicated to helping anybody on any budget and with any personal preferences find the perfect trip for them. Their YouTube channel is full of incredible videos that are beautifully shot, and will be sure to give you plenty of ideas. They have playlists broken down by continent, also. It makes it much easier to sort through.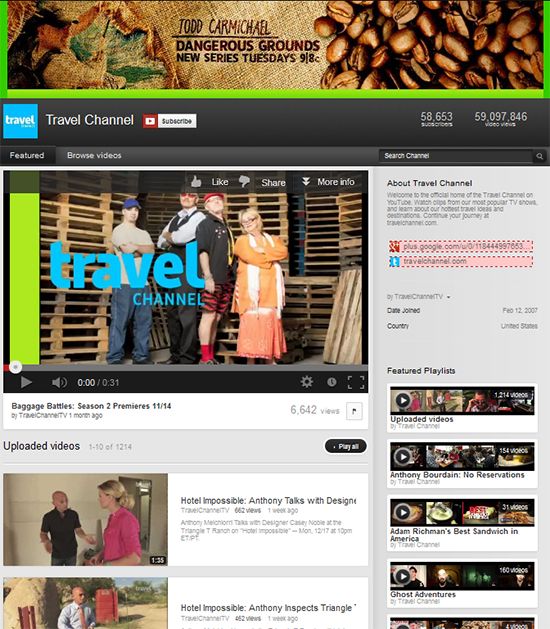 I know a lot of travelers stick their nose up at anything to do with the Travel Channel. But I think their YouTube channel is great. They have a friendly approach to showing off different areas, which makes it much less intimidating to the inexperienced tourist. It is also aimed more at people looking for a relaxing vacation than a globe trotting life experience. Which makes it an asset for anyone who is interested in a fun place to take a holiday.
3. Tripfilms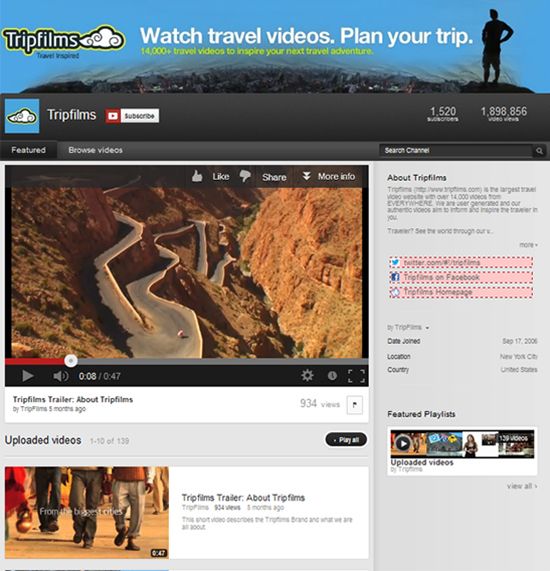 There are more than 1,400 videos posted from all over the globe at Tripfilms, and more than 130 of them are posted here. Each one shows the personal experience of a traveler, who has different tastes, needs and trips, so you have a great selection of entertainment. They also have informative videos, like things to do in Toronto, going on a road trip, and navigating big areas like New York City or Key West.
Looking for a fun little video with the bird's eye view of a trip? Peter takes you all over the world with him on his travels, showing what it is really like. This includes both the good and the bad, and often with a personable flair you will love. He literally goes through the whole process of going through a new city, right down to dropping off his bag the room he is staying in.
Anyone can travel the world, even on a strict budget. At least, that is the view of Graham Hughes, who has done a number of videos on that very subject. He also covers his personal expeditions, and takes us on a journey that you will love to watch. He describes himself as Indiana Jones meets Richie Cunningham, and that is very apt. Be sure to check him out and hit the subscribe button,  because his hijinks are always worth watching.
Do you know of any good travel channels that could help inspire a trip or vacation? Let us know in the comments.
Annie is the inspired blogger for Dobovo, the free source to get travel-inspired and pick an apartment in Kiev on your next trip to Europe.